Green Sprouts Cool Calm Press in Green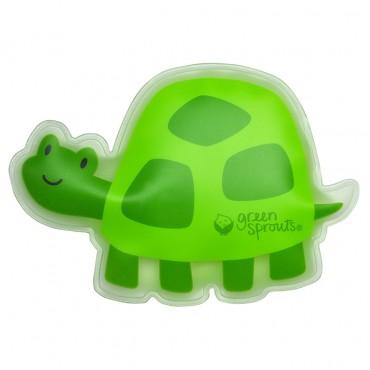 Green Sprouts Cool Calm Press in Green
Cool Calm Press in Green

Soothes aches, bumps, and bruises with cold therapy—Alleviate your little one's minor aches, bumps, and bruises with cold therapy from our Cool Calm Press.
Filled with non-toxic gel—Reusable cold compress is made without hormone-disrupting BPA, BPS, BPF, BFDGE, NOGE, or BADGE additives, and filled with non-toxic cooling gel, for baby's health and safety.
Flexible when frozen—Store our toddler cold compress in the freezer so it is always ready to use. Stays flexible without being too cold on toddler's skin.
Perfectly sized with cute characters—Your little one will feel better when the cute green turtle, pink butterfly, or orange owl friend comforts and distracts from ouchies.
Adult use only—Adult use only for babies, toddlers, and grown-ups!
Adult use only. Babies and children should always be seated securely during product use. Never leave the child unattended. Remove and discard all packaging materials. This product is not a toy. Keep out of reach of children when not in use. Before each use, inspect the product. Throw away and replace it at the first sign of damage or weakness.
Materials—
Outer: Brushed TPU and Film
Inner: FDA Approved Gel: 75% purified water, 20% propylene glycol, 5% sodium carboxymethyl cellulose.
Care Instructions—Clean before first use and after each use. Wipe clean with a damp cloth. Dry with a soft cloth before storing. Store in the freezer between uses. Do not microwave, sterilize, or boil. Do not store in direct sunlight or near a source of heat.