Freeze-N-Feed Mini Combo - Blush Feeder + Pea Green Tray
Freeze-N-Feed Mini Combo - Blush Feeder + Pea Green Tray
The Freeze-N-Feed Mini Combo is the perfect way to safely introduce new flavours to your baby while providing cooling relief for teething gums! Combining the always popular Fresh Food Feeder with a mini version of our Pineapple Nibble Tray, this combo freezes perfectly-sized portions of food, allowing your child to explore new flavours and textures without the risk of choking. This set is small enough to pop in your bag, so you'll always have it to hand when you're away from home. Best of all, the Freeze-N-Feed Mini Combo is super easy to use. Simply fill the Nibble Tray compartments with breast milk, puréed food, or other favourites and freeze. Pop one out when required and place in the Feeder pouch, assemble, and seal tight. For those who need more treats, the full-sized Pineapple Nibble Tray (sold separately) comes with a huge NINE compartments, keeping you going for longer! Your little one will enjoy having the ability to experience new tastes and textures and building independence, as well as getting soothing relief for their teething gums.
Non-toxic silicone design makes the Feeder safe for your baby to chew and suck on. 
Soft silicone pouch with small holes that allow only tiny, digestible pieces of food to pass through. 
Feeder has a secure lid to prevent choking hazards. 
Textured bunny ears on the easy-hold Feeder top provide bonus entertainment and develop motor skills. 
Nibble Tray is ideal for making perfectly-sized frozen portions for the Feeder Pouch, 
Freeze breast milk or other favourites in the Nibble Tray to soothe tender gums, 
Nature-inspired colours help stimulate baby's sensory development. 
Feet on the cap allow the Feeder to be stored upright. 
The Nibble Tray's loop and shape of the Feeder handle make for easy hang-drying and storage. 
Disassembles for easy cleaning - no spaces for bacteria to breed. 
BPA, PVC and phthalate-free.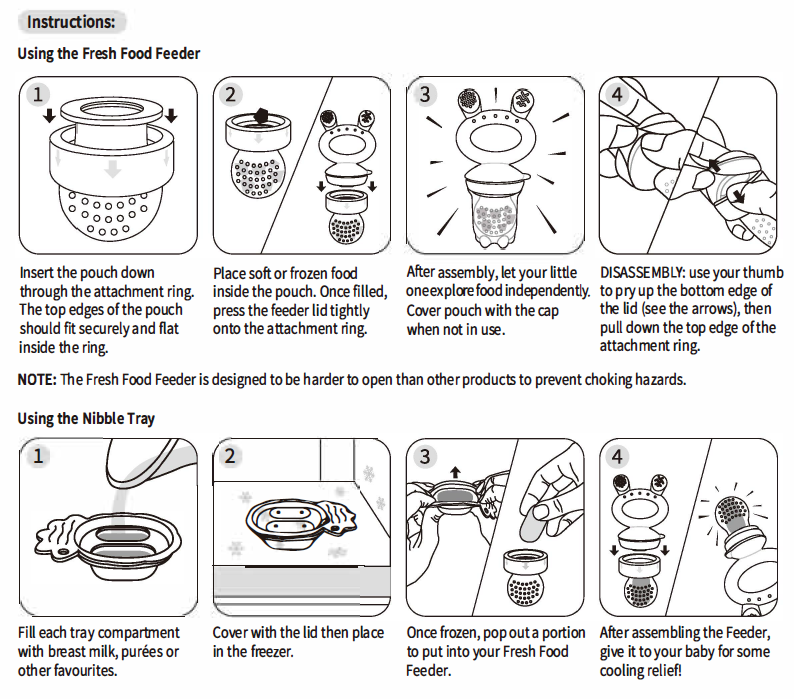 Before first use, disassemble and clean the product before placing silicone components in boiling water for 5 minutes to sterilise. This is to ensure hygiene. Wash before and after each use. Although dishwasher safe, we recommend hand washing with warm, soapy water and rinsing thoroughly. Only soft bristle brushes or soft sponges should be used to clean this product as hard scourers may scratch the surface. Do not use any bleach-based cleaners or tablets to sterilise or clean your Haakaa products. To sterilise after subsequent use, use a steam steriliser or boil in water for 2-3 minutes. To sterilise plastic components (Cap), boil in water for no longer than 2-3 minutes. Silicone may absorb the colours of foods it comes in contact with. To minimise discolouring, wash immediately after use. Do not store near any sharp objects. Store product in a cool, dry place and avoid direct sunlight.