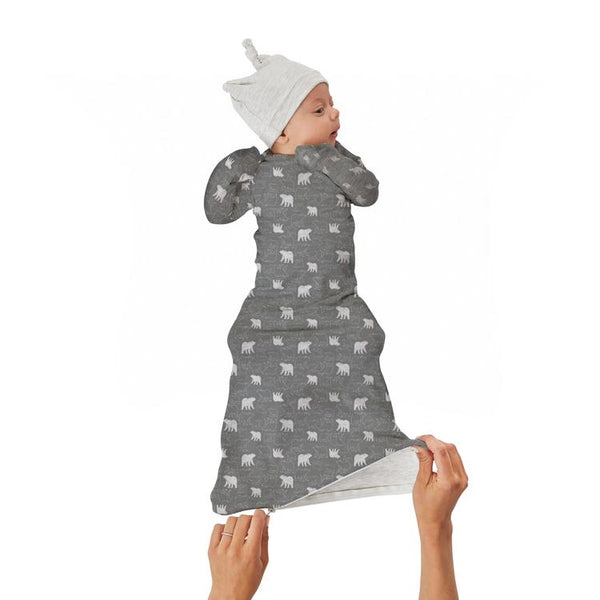 Description
Keep your tiniest tucked in with our extra-long take on the traditional baby gown with easy-access DIAPER-ZiP. More silky soft bamboo fabric means more coziness for them. More coziness means more sleep for you.
Why You'll Love It
Extra long length keeps baby's feet tucked in

Easy- access diaper zipper keeps baby snuggled & warm, no feet poking out

Long sleeves

Fold over optional hand mittens prevent scratching, added warmth when needed

Lap shoulder neckline for easy on and off

One size fits Newborn to 3 Months
Our Safety Standard
Certified OEKO-TEX® Standard 100 means it's safe and gentle on baby's sensitive skin, guaranteed free from harmful chemicals, toxins, and irritants.
Certified OEKO-TEX® Standard 100 means it's safe and gentle on baby's sensitive skin, guaranteed free from harmful chemicals, toxins and irritants
Rounded pulls
Zip pull covers at both ends
Rigorously tested by Leading JPMA Certified Lab
Exceeds U.S. and Canada safety standards
NO flame retardants
Bamboo plants do not need pesticides
Certified Pediatric Sleep Consultants Approved + Used
First Candle Safe Sleep Award
                                                   fabric & care
Certified OEKO-TEX® Standard 100
Hypoallergenic, breathable, wicks moisture
Ultra-soft 95% bamboo viscose, 5% spandex
Wash in cold water on delicate cycle
Tumble dry on low heat
Do not wash with abrasive items